<Home>



Artist Press Vol. 12 > Feature: Norway Jazz Week


Beady Belle: Show Review. Interview
Helge Lien: Show Review. Interview
Bodil Niska: Show Review, Interview


LIVE REPORT


Bodil Niska
May 29, 2003 at JZ Brat, Shibuya, Tokyo

Bodil Niska plays on old time Jazz as smooth and handsome but with a new tradition.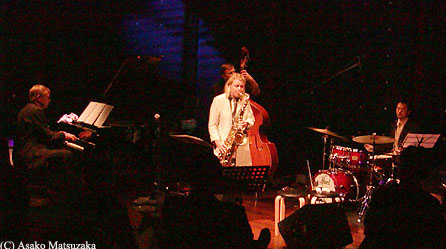 Official Site: http://www.barejazz.no/niska/

Bodil Niska Interview


The Norwegian Jazz week came to the last round of sets with Bodil Niska, the "Jazz Lady" much respected as the true lover of Jazz and creator of new tradition in Jazz in her native Oslo. In fact she is the owner of the all-jazz specialty record store called "Bare Jazz" in Oslo, which has become local musicians' favorite meeting place. (http://www.barejazz.com/)
The venue was again "Jz Brat" in Shibuya. It was the second show of the day, and the tables were occupied by jazz loving people wishing to wipe the day's wear off their faces with the silken sound of Bodil's tenor sax.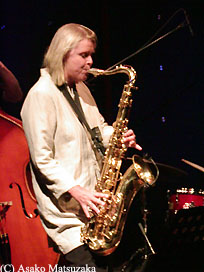 Bodil Niska and the company came on stage nonchalantly as if they took it for granted to play Jazz and that's their favorite thing to do. It must be their favorite pass time activity, as listening to them play the old timey "Jean" they sounded and appeared just as natural as saying hello to each other. Seasoned musicians they were, yet so fresh was their sound, full of joy of playing music.
"How about You" swung in up beat delight. The bass and the drums kept steady rhythm and the sax soared with bright happy notes. Per Husby on the piano presented wonderfully rich melodies in otherwise straight-forward jazz improvisation sequence. Stig on the bass had his foot tapping along as the fingers danced on the fingerboard. Masahiro Taji, a local Japanese drummer joining for the night, took the solo with brushes adding splash to the ensemble.
The slow waltzing rhythm of "Sometime Ago" followed. Bodil on the tenor sax was quite soft spoken. Per's piano accompaniment showed glister as he punctuated the melody lines. The way Per re-introduced the theme at the end of the bass solo was one of the most memorable moments of the show.
There happened to be a birthday in the audience. The band joined the celebration by spontaneously playing "Happy Birthday". Then there was another birthday in the audience, and it was greeted with the second round of the same song but indeed with a fresh spirit.


"I hear a Rhapsody" came on with a well-spoken but not talkative performance of Bodil's tenor sax, followed by a gorgeous piano solo. Per Husby has in fact played with internationally acclaimed musicians including, among many, John Surman and Chris Potter. His exceptional talent in arrangement was well demonstrated even in this brief solo part. The bass solo was remarkable for the use of the low strings. The drum solo was to be seen as well as to be heard: the elbow technique on the snare drum came as a surprise and to the delight of the audience, bringing about a round of applause. The band truly made a spectacular show of hands on this otherwise well-known and widely played standard tune.


A slow ballad changed the atmosphere of the club to just the right mellowness with the rich sound of Bodil's sax. "First Song" is in fact the title track from her debut CD. The band performed in a delicate balance of tension and tenderness, which is not easy to achieve.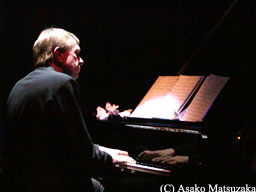 "September in the Rain" started off with a breathy tones of the sax reminding of Stan Getz. As the sexy notes developed, joined by the band ensemble, the tune culminated in a big swing to a big round of applause from the audience. The interplay between the bass and the drums added tasty tension to the tune.
The tenor sax came in breathy as well on "Polkadots and Moonbeams". Bodil was eloquent as if to reminisce good old times. The piano and the bass contributed with rich melodic sequences to give the whole tune a fresh impression. A well executed performance to round up the show.
Responding to the enthusiastic applause of the audience the band returned to the stage and quietly and once again nonchalantly went on playing "Vuggevise for Benedicte". A short song it was but enough to bring out the essence of the band's capability, especially with intricately interwoven rhythms between the four.
The show demonstrated Bodil's love of Jazz, augmented by the prowess of the three men of the band. While new technique and evolutionary interpretation are often given high acclaim by music critiques, this performance of Bodil Niska and her band reconfirmed the heartfelt delight in old time Jazz, with a sense of intimacy, all in a simple joy of finding good spirits in the minds of music loving people. For all lucky ones who happened to be there, at the end of the day, it was a night to put on happy faces.

Special Norwegian salmon dishes served at the venue


Members:
Bodil Niska(Tenor Sax)
Per Husby(Piano)
Stig Hvalrygg(Bass)
Masahiro Taji(Drums)


<Set List>
1. Jean
2. How About You
3. Sometime Ago
4. Happy Birthday (for birthday audience)
5. I hear a Rhapsody
6. First Song
7. September in the Rain
8. Polkadots and Monbeams
9. Vuggevise for Benedicte


---
Bodil Niska Interview


Q: How do you feel about Japan?

BN: It's very big. I'm from a very small town in north Norway. I live in Oslo. Oslo is not so big as Tokyo. So sometimes I'm afraid of going into town, because I don't know the area, I might not be able to get back to my hotel. But it was so nice, when I went out with the guys one day, and on one street I found an interesting contrast of a very old house standing between completely modern buildings. I wish I could stay here one week after the gig, so that I can relax and see the city.


Q: This is going to be the last show in Tokyo. How do you feel about Japan as far as the concerts go?
BN: We just arrived from a long trip, and we went straight to the first gig and we were little bit tired but luckily we had a very happy audience. This is a second gig and this is a wonderful place to play, because people are quiet, and they respect musicians and the songs really.


Q: Do you feel more comfortable, when the audience is quiet?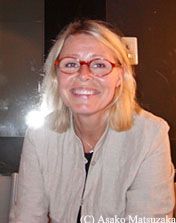 BN: Yes, of course. Because then you can express yourself, or even go on telling them a story with the saxophone, and every note this very important. It's just like giving a speech, and when there were somebody talking when you are speaking, it's not good, as if what you are saying is not important enough. But when people are quiet like this, and relaxed, and like the songs, it's perfect.
Q: When you play the saxophone, then you play the sax and tell a story?

BN: Yeah, with my saxophone. I'm telling a story with the song, with the notes.
Q: I heard your album "First Song". There are many popular standard numbers and they all come out quite naturally.
BN: The standard tunes mean a lot for me because the old stuff have beautiful melody, and I'm very fond of the melody in a song. While the young people go on to play new stuff. I want to take care of the standard and the melody.
Q: Listening to your music, I find it very relaxing.
BN: Yeah, thank you. You know I'm busy all day, and when I play, actually I take on another side of myself, and go more into myself. I'm not a technical player, but I'm a story teller.
Q: Often tenor saxophonists go for power play, that's what I have heard from many other tenor saxophonist. But the way you play is quite gentle and makes me realize that I've never heard a saxophone player is so tender
BN: Oh, then you should listen to Ben Websterand Gene Ammons Because they are so tender.
Q: In Japan, there's a lot of technical saxophonists.
BN: I think that's why I have a lot of gigs because people want more melody, not so much technicality. They are more into melody again. They use to play good melodies before in the old days. So I'm playing the old tradition.
Q: I'm really looking forward to listening to your music and relax.
BN: Thank you. I should make you relax then.
Q: I heard you have a record shop in Norway.
BN: I have the biggest jazz store in Norway called "Bare Jazz". There's a cafe upstairs with stage where you can play the drums, piano and there's also PA system. When musicians or people interest in jazz come in , and wanted to sit down and play the piano, and bring up the music, people can have jam session even in the day time.


Q: That sounds very exciting!
BN: It's a very nice shop. I started it in 1998.


Q: And do you play there also?
BN: No, because it's my shop and I'm the owner ,and I manage everything about the music, the cafe, so I don't feel that it's right for me to stand up and play, because it'll be too much of "me". Do you understand? I feel like; me, me, me…So I want other people too. There's a lot of new releases. For every new CD coming out in Norway, we have release event at "Bare Jazz".
Q: In your album, your father played the accordion.
BN: Yes, I am very proud of that because since I was little he was playing, and he taught me all the standard tunes. He is 78 now. He was 75 when I made this record, and I wanted to bring him into the studio, and let him have an experience of being with nice musicians,, and have him sitting there in the studio, and so it happened that he recorded for the first time. He really is my musical roots.
Q: I think is wonderful for father and daughter to play together.

BN: Yeah, I wanted to take care of him, because he is old and he never had the opportunity to go into the studio and make a CD.

Q: You father was never a professional musician?
BN: No, he is just a hobbyist.
Q: I thought he performance was quite eloquent.
BN: He is a very good player. But always he has always been working on something else. Just like me, I have a shop, and I play music.
Q: Thank you very much for taking time for us.
BN: Thank you, it's been so nice.

Report by Tatsuro Ueda
Interview by Asako Matsuzaka
Photography by Asako Matsuzaka
Translation by Tatsuro Ueda
Edit by Asako Matsuzaka
Many thanks to Royal Norwegian Embassy Cosmo Public Relations, JZ Brat


Copyright (C) 2003 Global Artist Network. All rights reserved.