<Home>


Artist Press Vol. 12 > Feature: Norway Jazz Week


Beady Belle: Show Review Interview
Helge Lien: Show Review Interview
Bodil Niska: Show Review Interview


LIVE REPORT


Beady Belle
May 25, 2003 at La Fabrique, Shibuya, Tokyo


A night Shibuya traversed the world to the land of never setting Sun and the never ending musical escapade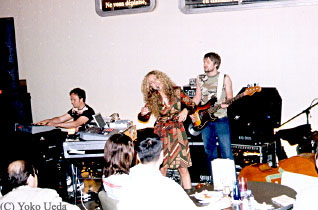 Official Site: http://www.beadybelle.com

Beate S. Lech Interview

It was the second time for Beady Belle, led by Beate S. Lech, to perform in Japan, and this time the venue was set at La Fabrique club in Shibuya, Tokyo. La Fabrique is located in the central district of Shibuya, a town packed with young people 24 hours a day. Down the stairs from one of the main streets, there's a neatly designed room decorated with mirrors and high roof, though small in footprint, it somehow achieves to appear like a large space using mirrors and the roof.
This club also serves as a restaurant. The menu is quite unique and satifsing, featuring nouvelle cuisine on the casual side, such as Flammemkeucheur, a very thin crust pizza with choice of cheese. The bar has a good selection of wine and cocktails and the bartender pours generously, which is rather unusual in a set-up as such as in Tokyo.


The live show was sponsored by the Royal Norweigian Embassy, in part supported by the Norwegian Seafood Export Council, and nice dishes of smoked salmon pie roll were served as complimentary dish to those who ordered meal. As the time approaches for the show, the restaurant became crowded with people with beer glasses in their hands, creating quite a club-like atmosphere.

The stage was not raised but on the floor, and there's no lighting equipment in the house. It was rather dark in the restaurant, and in the ambient illumination only the vague silhouette of Beady Belle could be seen. Nonetheless, when asked about the inconvenience, Beate Lech replied jokingly: "since it's always dark in Norway we don't care much."
Beate, with headset microphone, and the band came out on stage. With a laptop computer and sequencer box set up beside her to manipulate. The groove came on and Beate's smooth voice, not unlike Basia, made a strong impression on the audience. From the fist song, "Hind Sight", Beate demonstrated a masterful control of the voice and the band created a very interesting mixture of jazz and house beat.
On the next tune "One and Only" the bassist Marius Reksjo switched to the upright bass. With the underlining rumba the song added a bluesy atmosphere to the restaurant. Jorn Oien, the keyboardist, played the electric piano through multiple effectors to successfully weave solos in rather bookish scale to the modern club beats. The drummer Erik Holm partly played the drums with his hands which seemed to contribute to the latin-american feel of this tune.
| | | |
| --- | --- | --- |
| |   | |
| Beate S. Lech(Vocal, Program) |   | Marius Reksjo(Bass) |
| |   | |
| Jorn Oien(keyboards) |   | Erik Holm(Drums) |
"Big Balloon" began with quiet piano passages with some electronic sound effects. The bass was treading a nice dub line, and as the strings and chorus came in to build up the song structure, the performance heated up enough to get the audience moving in waves to the rhythms.
A light footed club beat came on as "On the Ground" began. While the structure of the song is rather simple, Beate added quite a tasty vocal that gave complexity to the song which continued to attract the audience's attention. Erik played the drums with the brushes on top of the rhythm sequencer for his solo part which had very nice moments.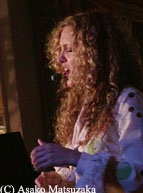 On "Bella" Marius showcased his talent on the upright bass. Some sampling of cinematic monologue added depth to the introduction to this song as Beate went on singing as if to brood over scenes from her past. The electric piano solo with a good sense of humor was reminiscent of Dave McRae from the 70's British jazz/rock band "Matching Mole" and "Pacific Eardrum".
Beate remarked that this next song "When My Anger Starts to Cry" was the most intimate piece she has done. The song tells a story of personal emotions in the fashion of a confession to the psychologist. The vocal mastery of Beate shines in this piece. The strength of her voice delivers climaxing emotions without breaking into a shout, which is not an easy achievement.

The plastic beat of rhythm machine floated in the ambient synthesizer patch on "April Fool" as the electric bass took the dub riff and the drums serving as percussion rather than driving the beat. A mysterious tune overall featuring free style vocals of Beate, showing the dark side of her song writing skills.

The last song was from their first album "Home". "Moderation" was probably the most inclined toward jazz, and a pleasure to listen to. Solos by each of the musicians including Beate taking vocal interplay with sampled voices. Also noteworthy on this song was the complex rhythmic structure during the instrumental part where the bass nailed down the meter while the drums continuously shifted the beat as well as the synthesizers literally wove in polyrhythmic sequences to the escapade of beats in total harmony.
All in all a wonderful performance with strong finish that left the audience applauding for more and more which would have turned it into an all-night event if the band had stayed. By all means if these fine young musicians come by your town it is not to be missed.

Members:
Beate S. Lech(Vocal, Program)
Marius Reksjo(Bass)
Jorn Oien(keyboards)
Erik Holm(Drums)

<Set List>

1. Hind Sight
2. One and Only
3. Big Balloon
4. On the Ground
5. Bella
6. When My Anger Starts To Cry
7. April Fool
8. Moderation


---
Q:How do you feel about Japan?
BL: I feel very positive about Japan. This is the third time that I'm here in Japan and it's striking every time I come here I like it very much. Of course it's crowded, compared to Norway, it's bigger, and the food is delicious, and I think people here are seem very friendly.
Q: We are looking forward to Norwegian salmon, on top of your music.

BL: Oh, good !

Q: What is your impression about Japanese audience?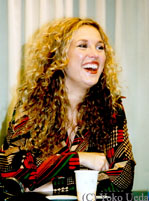 BL : Oh, I've only played once but this concert was absolutely fantastic. We played at Blue Note with Bugge Wesseltoft. He is a keyboard player and the musical director of Jazz Land. It was absolutely great. We didn't expect so many people to come but it was actually sold out, and went perfect.

Q: That's wonderful. Would you like to tell us something about the new album?

BL : Yes, where shall I start? I can start with the strange title perhaps. This word "CEWBEAGAPPIC" is not a Norweigian word or anything but something that I created to describe my music. When I released the first album "Home", people used to come to me and asked what kind of music it was, and I always ended up listing up the whole music history behind the music with many words and the answer became very long, so I wanted to find one word that could describes my music. And I looked up in the dictionary but I didn't find a good word. So I decided I would make a word. In this word, each letter means something else for another word. And it's built in contrasts. So, the "C" and "E" for "Complex" and "Easy", "W" and "B" for "White" and "Black", "E" and "A" for "Electronic" and "Acoustic". "G" and "A" for "Groovy" and "Ambient". "P" and "P" for "Programed"and "Played". And "I" and "C" for "Improvised" and "Composed".

Q: So This Album has everything you wanted in music?

BL : Yes, I tried to make music that I like, and I think I managed to let this title describe pretty much what my music is.

Q: I would like to know something about musicians you play with.

BL : They are wonderful musicians. I like them so much. And I appreciate collaborating with them. On the stage we are four people. On CD we had more people but the same group as a core. We had strings, people we hired, like horn section and many other people on the CD. . But for live show, as we do here in Tokyo, we have a keyboard player, unfortunately there will be no grand piano today but we'll manage with a digital piano. He is a jazz pianist and he has his own band as well. We are happy for having hi in our band, his name is Jorn Oien. in our band. And on bass that'ss the second half of Beady Belle, that's the other person who makes Beady Belle's music, is the bass player Marius Reksjo. And the third person in the band is the drummer and he is called Erik Holm. And me!

Q: Do you play instruments?

BL : Yes, on stage I do some kind of DJ but I'm not using vinyl records. I'm using samplers, effect machines and computers. And so I'm also a part of the band(022) in additon to being the lead singer. So I can step back and be a part of the band as well, although I'm not playing real instruments like flute or anything but the digital instruments.

Q: I'm looking forward to today's live show so much.

BL: Thank you.

Q: How would you envision today's show to be?

BL : Today we will play much from the second album "CEWBEAGAPPIC", and of course some songs from the first album "Home" as well.. We never know how the concert is going to be, because it's a live concert and it is always a dialogue with the audience. It's not a monologue, it's a dialog and it depends on the audiences: the songs can be very energetic, or can be very quiet. One song could be three minuets, and the same song could be 15 minuets in another concert. So, don't know but love the situation where I can make choice on stage and nothing is already set.

Q: I'm looking forward to today's live show so much. Thank you very much.

BL : Thank you.


Interview by Asako Matsuzaka

Translation by Tatsuro Ueda
Photography by Yoko Ueda, Asako Matsuzaka
Edited by Asako matsuzaka
Many thanks to Royal Norwegian Embassy, Cosmo Public Relations, Jazzland record, Universal Music, La Fabrique


Copyright (C) 2003 Global Artist Network. All rights reserved.