<Home>


Artist Press Vol. 11> Feature: Robben Ford

Interview witn Robben Ford
Live Show Report: Robben Ford Live at Motion Blue yokohama



Interview with Robben Ford

Go to Japanese

Sizzling groove and sophisticated blues feelings...
Robben Ford, the innovator of contemporary blues reveals the truth in blues guitar play.

=-=-=-=-=-=-=-=-=-=-=-=-=

Robben Ford Official Site: http://www.robbenford.com/

=-=-=-=-=-=-=-=-=-=-=-=-=

Tour
Album "blue moon"
Beat
Blues
Equipments and sounds
Message...Peace




Tour

Robben Ford(R):
OK! Let's get started.(He spoke by Japanese.)

Q: Where did you learn Japanese?

R: Oh, I've been coming here for years, you know, I just know little phrases.

Q: But you speak it so fluently...About thsi Japan tour, how do you feel about this tour?


R: Well, it's a great pleasure to play with some of my old friends. And it's also nice for me to finally play with my own group in Fukuoka for the first time and also Osaka at the Blue Note, for the first time.



Album "blue moon"
Q:I saw the names credited on your CDs for this tour and was really looking forward to listen to them in a live show.
About "blue moon" album, I'd like to ask you some questions. You have put out many albums with great blues feeling. The first thing struck me about "blue moon" was the powerfulness and energy exerting in it throughout the tracks. Will you be able to tell us little bit about the concept of this album and what you wanted to realize in this album?
R: My last two records before this one, "Tiger walk", that was all instrunental, and "Supernatual" had a lot of variety with the song writing. So this record, although I enjoy always some variety, I wanted to make it more of a blues record than the last two. That was my only real concept.
Q: My first impression was that the whole album was streamlined with blues tone.
And each of the songs has very new atomosphere with underlining blues tone and that was really interesting and that's something that kept me going through the album.
R: Pretty much!
Q: When you work on a song, how do you construct composition, how do you arrange the tune, where do you get ideas?
R: I... hmmm, that's hard to answer! I don't think about it very much. If I'm covering a song, it can be different from the original or maybe very much the same. Just if some inspiration comes to me about a song, I would go with the inspiration, but sometimes I like a song very much the way it is and I know that the people who are playing with me would put something in it that would make it sound new without trying too hard. So really often I just trust my musicians.
Q: What are your favorite songs from "blue moon"?
R: Yes, I like very much "It Don't Make Sense", the Willie Dickson song, that's very special, I think. And I'm really happy with our performance of it, I think we did something personal and unique with that.
And I also like very much the song called "Good to Love". It's unusual for me. It's an old-timey two beat song. And the song, the lyric came really easily, like a personal story, and so to me is a successful composition. Sometimes I'm happy with a composition but not all of it. This song I think is a good song writing. I'm always very happy, when I can say that I feel like I really wrote a good song It's hard to do.


Beat - a good rhythm guitar player should think of himself as a drummer
Q: You mentioned the beat. In your song, I feel great groove going on in your compositions. Even for old-timey blues tunes.
R: Most of my music, when I do a cover it's usually like Chicago blues from the 50's.
I like Little Walter, Howlin' Wolf, Muddy Waters, that style. That's the music I listen to generally if I want to find a cover. And also old B.B.King.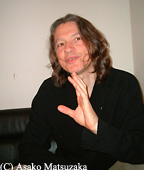 Q: Your band is really good at creating groove. Do you do something to get it going?

R: Yeah, that's what they do. Well, we use the record as the reference point. And we talk about things a little bit and we allow things to change, I mean, as we play, we find what works.

Q: The way you perform the rhythm is so exquisite. What are the things you hold onto, when you create the rhythm?

R: Oh, thank you. The main thing is some kind of repetition. Basically a good rhythm guitar player should think of himself as a drummer. And from there, instead of a beat, I have a chord. And then I try to find some small thread to link the chords together, little theme, little melody, so it kind of builds like that: rhythm, chord, melody.
Q: That was a very good explanation thank you.People always talk about your music being based on blues.

R: Yeah!



Blues is any feeling at all.
Q: What does blues mean to you?

R: For me, blues is any feeling at all. So for me any kind of music can sound like the blues, if it's really good music, like Indian music. Also, I was watching some Japanese theater today, KABUKI, some of that sound like blues to me. And some classical music, you can hear blues, so…
Q: So it's more like a vehicle to express your feelings.
R: Exactly!
Q: Be it vocal or the guitar performance, what goes through your mind when you perform? What do you want to tell the audiencede?
R: Generally I like to not have a lot of distractions, and I like to focus on my playing. And the more I can just relax, the more I feel I'm able to connect with the audience.
So my greatest concern is actually what's happening on the stage, with the band.
If the group is feeling good and really being supportive and right there for me, I can just relax and open up. Otherwise I'm thinking about what's going on on the stage, that's a terrible feeling.


Equipments and sounds -Total commitment. Total focus.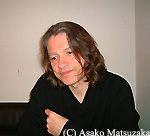 Q: Now about your guitar tones. Your guitar sounds so smooth and you can express a lot by just playing one note, very clear and resounding. How do you do that ?
R:It really comes from listening to others first. And, really letting the great sound of artists you admire, come into your body. And then, it's important to have good instruments. But maybe even more important is to work with whatever you have. And find, what works with yourself. You have to not look too much outside yourself for good sound. Find your sound inside your body. And then you have to play like you are "shouting at the waves". Do you know this expression "shouting at the waves"?
I read this in a book written by a Japanese musician who lived in Hawaii, He wrote a book called ZEN GUITAR. And I think "shouting at the waves" is like, the waves are so huge and loud, but you can shout at the waves and still be heard. It's like a "KATSU" in the martial arts. That's where it comes from. Total commitment. Total focus.

Q: That's so wonderful!
R: Good.
Q: We go spiritual here!
R: That's where it goes!
Q: Would you be able to tell us what your equipment is?

R: My equipment? I use the Dumble amplifier, I use Baker Guitar, 1960 Fender Telecaster, and I use Earnie Ball volume pedal, and Dunlop wahwah pedal, and TC Electronics 2290, it's rack for delay. That's it.
Gene Baker, the Baker is the new Robben Ford model. I no longer work with Fender. They are too corporate.


Message..."Peace"
Q:May I ask you two more questions?
R: Two more questions.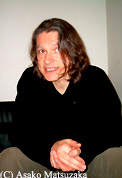 Q: In your oldest memories what sounds can you recall?
R: Well, two things just came to mind, first thought. One was the Miles Davis' trumpet. But I didn't hear that till later. So that's hard to say, not sure but...Also the first time I heard a gun fired, I never forget it. Whoa! Just like somebody shooting at cans, practice shooting. Very intense, hurt my ears so bad. You know that sound? I never like guns from that point on.

Q: Can you recall when it was?

R: Yeah, I was maybe 12 years old.

Q: Can we have a message for the fans?


R: Oh, message. The dreaded message. Hahaha! I don't know what to say...Peace. That's it for me.

Q: That's very important. More important now than ever. Thank you very much today



====================
Besides being a superb musician, Robben Ford is a wonderful person of great sincerity and honesty. His words, "Total commitment. Total focus" truly represent his attitude towards music. ((At Motion Blue yokohama, Aprl 12, 2003)
====================


Interview by Asako Matsuzaka
Photography by Asako Matsuzaka
Translation and support for covering by Tatsuro Ueda
Many thanks to Motion Blue yokohama


Copyright (C) 2003 Global Artist Network. All rights reserved.