<Home> <About Us>
Artist Profile -Index

Artist's Data > Profile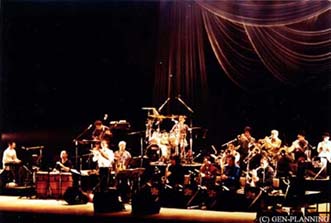 熱帯JAZZ楽団
元"オルケスタ・デ・ラ・ルス"のリーダー、カルロス菅野がプロデュースし、今の日本を代表するミュージシャンが一堂に会した、ラテンジャズ・ビッグバンド。無機質な音楽が溢れている昨今、17人のメンバーが創り出すパワフルなリズムとハーモニーは年齢を問わず幅広い観客を魅了する。
17人の個性溢れるメンバーが"音楽はエンターテイメントだ!"をコンセプトに、ステージ上で正に縦横無尽に懐かしのラテン名曲はもちろん、ジャズ、ファンキー、フュージョン〜オリジナルまでトビッキリ熱いビッグバンドサウンドを繰り広げる。 現在ビクターエンタテインメントより4枚のアルバムをリリース。
またニューヨークの「JVC JAZZ FESTIVAL」に2年連続出演するとともに、RMMレーベルより3枚のアルバムを全米発売するなどワールドワイドに活躍中である。
熱帯JAZZ楽団オフィシャルサイト:
http://www.genplanning.co.jp/
Nettai Tropical Jazz Big Band
In December of 1994, Carlos Kanno announced that he was stepping down as the leader or Orquesta De La Luz. Everyone knew that he wouldn't be away from music for very long. Rumors of the sensational Jazz All-Star Band that he put together for the 1994 Takasaki Music Festival, mostly with the members of Orquesta De La Luz had gotten around. What started out as a group of musicians jamming for a good time ended up becoming a sensation. By May of 1995, Carlos' ambition of wanting to perform with the various talented musicians was fulfilled.
The band performed for a sold out crowd at club in Tokyo and the band was ready to make their debut to the world. Since their debut, the band has released four albums in Japan and three in the United States. The group has also performed in concerts and numerous jazz festivals both in Japan as well as in the United States including the JVC Jazz Festival in New York City. Anyone who has listened to the band will surely agree that this band is as the tropic and will keep your feet tapping to their hot rhythm.
Nettai Tropical Jazz Big Band Official Website:
http://www.genplanning.co.jp/

資料&写真提供:GEN-PLANNING

Copyright (C) 2001 Global Artist Network. All rights reserved.