<Home> <Info. from Artists>



LIVE REPORT

Farmers Market
23rd May, 2004 at Eggman, Shibuya, Tokyo


The Norwegian Farmer's Market is always fresh! The virtuosi displayed the ultimate show of hands that left the whole audiences dumb-founded and smiling all the way.


Farmers Market was formed in '91 by multi-instrumentalist Stian Carstensen with fellow Norwegian musicians. The members of the band then were all attending the Jazz department of Trondheim Music Institute, and the choice of musical style was free jazz, but soon they acquainted themselves with the odd meter and improvisational quality of Bulgarian dance music, upon which they found the foundation of their music and they came to establish their unique blend of music with east European ethnic music, jazz and pop with sense of humor. The first album was the '94 live recording from Molde International Jazz festival played as a special band formation including Bulgarian Voice chorus, which was released in '95. After the original saxophonist Havard Lund left the band, Bulgarian saxophonist Trifon Trifonov joined in. There is an interesting episode about his joining the band. As Stian Carstensen was looking for a new sax player, he was told there's one of great dexterity in Bulgaria. He called him on the phone and started jamming over the phone for over an hour, and having attested his skills and musical direction Trifon was named the new saxophonist of the band on the spot. Trifon still lives in his beloved country and ravels to Norway and other parts of the world as his prowess is required. For these shows in Tokyo he flew first to Norway to meet up with the band and continued on to Japan.
The live show had a warm up act of Katan Hibiya. He originally started his musical career as a heavy metal guitarist but one day he found out about the gypsy guitar legend Django Reinhardt, having enchanted by his music he mastered the style, and he has been creating quite an extraordinary music with astonishing skills on the guitar and visionary world that defies rational interpretation. As his performance started the darkness of the stage seemed to deepen. It was as if to see Django Reinhardt sing and play, and the intensity of the performance was quite impressive. His vocals cover wide range of spectrum in octaves and emotions, from whisper to scream. It was astounding to see this skinny unisexual looking guitarist play on his McAfee acoustic guitar and sing like Peter Gabriel at the same time.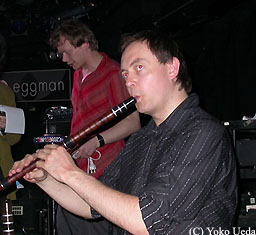 After a brief interval Farmers Market appeared on the stage. The first song opened with Stian's solo performance of Kaval, a Bulgarian woodwind instrument. The band joined in and started to play in gypsy scale at high speed in what seemed to be as in 7/16, however with frequent rhythm changes and breaks it was very difficult to grasp the rhythmic structure. Stian changed his instrument to accordion half way through the song. This accordion was custom made in Italy with built in MIDI interface so that he can produce various sounds. Hammond organ seemed to be the choice of electronically generated tone for this show besides the acoustic sound. Guitarist Nils Olav Johansen had Roland GK-2 MIDI pick up attached on his guitar and used Roland guitar simulator VG-8 and Alesis effector airFX to produce variety of tones. Trifon Trifonov played a breath taking solo full of east European flavor as Jarle Vespestadt on the drums and Finn Guttormsen on the 5 string electric bass drove the song in incredible accuracy with exhilarating groove. The song had brief quotations of well-known pieces of music such as Take Five and Ravel's Bolero among many others and it finished in great complexity and tightness.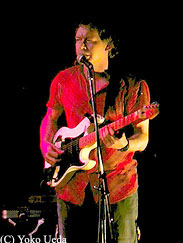 Next song was led off by Latin rhythm on the drums. Stian takes up the electric guitar for this song and played Middle Eastern melodies in unison with Nils Olav's guitar and scat vocal, and Trifon's saxophone. Trifon's sax solo was based on the Bulgarian Voice song Kalimankou Denkou but on a different meter from the drums and bass, creating a polyrhythmic ensemble as the audience cheered generously. Duet performance of the drums and Stian's guitar followed, also in polyrhythmic structure. The song featured another sax solo, this time in the style of Bulgarian wedding music, with astoundingly long phrases on the circular breathing technique.

Next song was a beautiful tune featuring Stian's Kaval and Nils Olav's guitar played in harmonics. Finn and Jarle sat down in the deep end of the stage for cigarettes. Stian displayed a unique technique on the solo Kaval where he alternated the microphone position between the window of the flute where breath exits, which produced breathy sound, and the tail which had clearer sound. Guitar and sax joined in unison then the bass came in for a full resounding band sound toward the end.

Nils Olav took vocal on the next song in the style of Hoomii, and Stian on accordion joined in also on scat vocal. It was nothing short of amazing to behold and listen Nils Olav lead on with humorous scat vocal and play the MIDI guitar which was no less amazing than John McLaughlin on his blazing fast solos. The extraordinary contrast of the vocal and the guitar in fact comprised a most unusual sound collage along with other members of the band on their respective instrument. Trifon's swinging sax solo came on and Stian played the MIDI accordion with Organ tone. Nils Olav continued with the tongue-in-cheek scat vocal and all together made a nice contemporary jazz sound. Nils Olav led on in unison of vocal and the guitar, which was done as good as George Benson if not better. Stian followed with his love song on the fly. With the MIDI Organ sound on his accordion he made up a song with bits and pieces from pop songs including Last Christmas by Wham!. The fast passages were amazing and as the song developed into gypsy scale jamming the stage was set on fire, while the audience boiled in uproar.

(Photos: Left, Nils Olav Johansen / Right, Stian Carstensen)

Upon the cool melody of Girl from Ipanema by Antonio Carlos Jobim Stian introduced the members. Following that Trifon took up two saxophones and played them at once for an amazing mixture of songs starting with Billy Vaughn Orchestra's hit number Sail Along, Silv'ry Moon. It went in segue to Bulgarian dance music, Latin, Polka and Hard Rock all in incredible speed and precision.

The next song Stian led off on electric guitar with wow wow pedal, in unison with Trifon, had a unique blend of Lapland folk and gypsy music. Stian switched to accordion in the middle of the song and took MIDI organ solo and continued onto introducing the famous Popcorn by Gershon Kingsley. The song is most known for the hit recording by Hot Butter in '72, but no one must have heard it played in 9/16. This was in fact a fine example of the exceptional talent of the band, for the creativity in arrangement and grooving execution.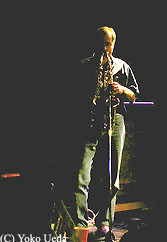 For the next song Trifon led off with his wailing sax which developed into what seems like a Nordic dance music. Repeating melody alternated between 5/8 and 6/8 and created an interesting groove in 11/8. When Stian played his Kaval, it was most reminding of the aggressive solo by Ian Anderson of Jethro Tull. Stian continued with the Indian oral tabla rhythm against Jarle's fierce drumming, then the whole band kicked in for the ending.


The next song Stian introduced the song. It was Some Fag Rag from his 2000 album Farmers Market. It was a comical tune but nonetheless a good demonstration of the band's prowess. Stian's accordion was all over the place while Nils Olav on the MIDI guitar went around in Banjo tone. His humorous scat unison came on again and it was simply exquisite. Stian took up his guitar and joined Nils Olav as the band went on to jazzy development. As Jarle played the drums with brush, the two guitarists performed what could have been billed as special duo performance of George Benson and John Scofield. A great sense of humor was dominant feature of this song but the jazzed up improvisation was spectacular.


The band left the stage but soon came back amid the uproar of the audience. While Stian played the guitar in jazzy scale, the spot light was on Nils Olav who came in with a cigarette in hand fashioning the style of France's infamous Serge Gainsbourg or the great Frank Sinatra. He sang softly in the beginning but soon proved his quality in the vocal as he went along. What a show it was! Then Stian took the guitar solo in extremely low volume, then he literally unplugged it. The audience listened intently holding laughter with great difficulty. The solo was in fact quite tasteful, which once again was a proof of the extraordinary talent of Stian Carstensen.

(Photo: Trifon Trifonov)

The second encore was Tails of the Unexpected from the second album Musikk fra Hybridene. The song is actually a medley of songs that Stian used to listen to in his youth, but the way the songs were put in segway was quite astounding. The songs included, among others, Theme from Pink Panther, Theme from Flint Stone, Jenka, 20th Century Fox Title Theme, Theme form Superman, Jump by Van Halen, Maria's Theme from The West Side Story, Dancing Queen by ABBA, Eine Kleine Nacht Music by Mozart, Heaven and Hell by Offenbach, Bolero by Ravel. Farmers Market is loaded with variety of produce from all over the world.

The band left the stage but the audience wouldn't let them go. The Indian oral tabla rhythm led off a high-speed gypsy dance music which was faster, louder and fiercer than any heavy metal tunes.

"Jaw dropping" must be the choice of word to describe the performance of Farmers Market. Their dexterity is unparalleled, and as Stian said on stage; Farmers Market is always fresh.


| | | |
| --- | --- | --- |
| |   | |
| Finn Guttormsen |   | Jarle Vespestad |



Musicians:
Stian Carstensen (Accordion, Kaval, Guitar)
Trifon Trifonov (Sax)
Nils Olav Johansen (Guitar, Vocal)
Finn Guttormsen (Bass)
Jarle Vespestad (Drums)
レポート:Tatsuro Ueda
写真撮影:Yoko Ueda
取材強力:Office Ohsawa, Shibuya Egg Man

Copyright (C) 2004 Global Artist Network. All rights reserved.