<Home> <Info. form Artists>



Show Review

Karin Krog & Jacob Young -Norwegian Jazz Nights
December 9, 2003 at Satin Doll, Roppongi, Tokyo

An evening of velvet voice at Satin Doll : Norway's top vocalist with young master of jazz guitar brings on the night of tender ballads and jazzed up excitement.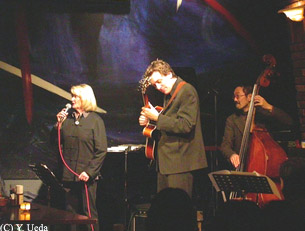 Interview With Karin Krog and Jacob Young

Karin Krog & Jacob Young Biography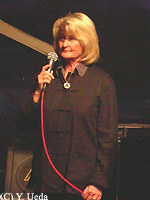 The venue was at Satin Doll, one of Tokyo's favorite Jazz clubs always packed with enthusiastic fans of old and young. Located in the central area of popular Roppongi, the club also boasts of broad choice of fine French and European cuisine as well as an impressive list of cocktails, whiskey, brandy and other alcoholic beverages.
It was the second stage of the night, and the show began with a Norwegian traditional lullaby "Ban Sull" sang a capella by Karin Krog alone. The soft silky voice of Karin filled the air and fell lightly on the audience like nourishing rain.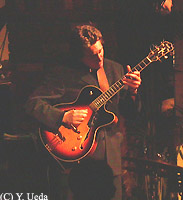 Next was a solo piece "A, Den Som Var En Lovetann" played by Jacob Young on his Yamaha AEX-1500. With the soft, round tone in the vein of Jim Hall, the sweet melodies of slow ballad spread through the venue where everyone listened attentively.

Karin introduced the next tune, "Everything Happens to Me", another slow ballad, from Karin Krog / Jacob Young album "Where Flamingos Fly". In her satin-like voice, accompanied by soft-spoken guitar of Jacob Young, Karin sang as if to talk to the audience and brought back this old song to life after 50 years since it was published.
"I'll be Seeing You" was the next song, also from the same album. The vocal and the guitar was nicely blending with each other. Jacob's guitar solo in the middle section was reminding of some of the finest performances by Pat Martino.

An Antonio Carlos Jobim song "Once I Loved" came next. A light bossa nova tune that also appears on "Where Flamingos Fly", sang softly by Karin.

Following tune, "Everytime We Say Goodbye" also comes from the duo album. The guitar solo during the middle of the song showed lovable tenderness as melody was played on high frets, all done wonderfully, possibly with more emotions than heard on the studio recording.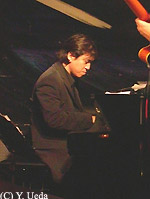 At this point the Karin called three local musicians onto stage, Masaaki Imaizumi on piano, Shinichi Kato on bass and Masahiro Tajika on drums. Karin stepped off the stage for "All the Things You Are", which was played in quartet. Each musician took solo in turn: Jacob with his Yamaha and Roland ME-50 multi-effector took a light-touched solo in the fashion of Jim Hall; Shinichi Kato on upright bass played an impressive series of phrases across the fingerboard; Masaaki Imaizumi on piano knew how to jazz on the instrument, and Masahiro Tajika's well thought out drumming featured clever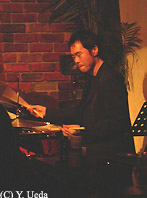 use of cymbals. A nice demonstration of the dexterity of the quartet, who only met for the first time earlier that evening!

"Eternal Triangle" was also played by this quartet before Karin reappeared on the stage. The prowess of the musicians brought this song to a big up-beat swing. On this second instrumental tune, Jacob went freely on his guitar which impressed the audience. Incidentally, the two instrumental tunes come from Sonny Stitt's 1973 album "The Champ". One might expect to find this album on record shelf at Jacob Young's home in Oslo.

Karin returned to stage and "Once upon a Summertime" was played next. This is a Michel Legrand song with french chanson-esque opening section and latin flavour for the following part. Smooth silky vocal of Karin was exactly what the song needed.

"Green Dolphin Street" was led off by Jacob with suspended chords in a mysetrious manner, soon joined by drums, bass and piano. The guitar had slight treatment through the effector box to create a hormonic tone which was a natural choice for the song. Following strong voice of Karin, vigorous guitar solo was taken and was later picked up by the piano solo in perfect combination, which was one of the best moments of tonight's show.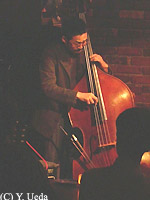 A beautiful slow ballad of "Body and Soul" was sang next, which cooled down the heat of the audience after the firely interplay of "Green Dolphin Street". It was as if Karin's vocal was floating between the waves of the sound of the quartet behind her.

Next song, "Don't Get Scared" offered a nice change of atmosphere. Karin sang the mid-tempo blues in vocalise masterfully and playfully, as Jacob added flashy solos and steady accompaniment.
Karin, Jacob and the band walked off the stage but soon returned on stage by enthusiastic call of the audience for encore. "Round Midnight" was led off by a grand piano solo. Tasty bass solo was noteworthy on this tune. Karin's vocals in a bluesy style was well suited for this song which once again proved the mastery of her vocals, and strength of her voice drove the entire band to a great rounding up of the evening.




Musicians:
Karin Krog : vocals
Jacob Young : guitar
Masaaki Imaizumi : piano
Shinichi Kato : bass
Masahiro Tajika : drums



Karin Krog Biography
Since her first LP release as a solo artist in 1964, Karin Krog has been the leading Jazz singer in Norway and around the world. She has performed with prominent Jazz artists such as John Surman, Bengt Hallberg, Red Mitchell, Nils Lindberg, Dexter Gordon, Achie Shepp, and Warne Marsh. Always at the frontline of performing Jazz scene, she has recently recorded in duo with guitarist Jacob Young, a CD titled "Where Flamingos Fly" on Grappa Records (2002), which was showcsed in today's live show. In 2003 Krog released a new album on Enja Records called "Where you at?" with Steve Kuhn trio. This is her 5th visit to Japan since her first tour in this country in 1970.
Jacob Young Biography
Jacob Young is one of Norway's most most accomplished guitarists/composers. During the 90's he studied in New York with great Jim Hall, as well as Richie Beirach and Ken Werner. Jacob Young has performed together with legendary and contemporary Jazz artists such as Junior Mance, Arnie Lawrence, Larry Goldings, Rashied Ali, Keiko Matsui, John Abercrombie, Dave Mann, Lonnie Plaxico, Eric Schenkmann, and Aaron Comess ( formerly a member of Spin Doctors) among others, and plays in duo with fellow Norwegian guitarist/composer Hakon Storm-Mathisen as well as Karin Krog.


Set List
1. Ban Sull (Lullaby)
2. A, Den Som Var En Lovetann
3. Everything Happens to Me
4. I'll be Seeing You
5. Once I Loved
6. Everytime We Say Goodbye
7. All the Things You Are
8. Eternal Triangle
9. Once upon a Summertime
10. Green Dolphin Street
11. Body and Soul
12. Don't Get Scared
13. Round Midnight


Report by Tatsuro Ueda
Interview by Tatsuro Ueda
Photography by Yoko Ueda
Design by Asako Matsuzaka
Special Thanks to COSMO PR, Satin Doll, Roppongi

---
Interview With Karin Krog and Jacob Young


Q:You sang a Norwegian folk song. What is the name of the song?
Karin(K): It's called "Ban Sull", a genuine Norwegian lullaby. It lends itself nicely to improvisation. As we come from Scandinavia, we have different roots than American musicians, I think what characteristic about us, being Norwegian can be sometimes better expressed by playing folk music. Definitely more and more European musicians are taking original turn.

Q: How long have you two worked together?
Karin and Jacob(K & J):We started working in 2001. Then we did a record.


Q: Karin, you've been to Japan 5 times since 1970. Do you notice any change in Japanese audience?
K: I do. I think the Japanese audience is more responsive now. Before they were rather reserved and it was not easy to know if the music is coming through to them. I can say they've become more open to showing appreciation.

J: For the second set we were playing low in volume. Always it's a good test to see if the audience is paying attention. And tonight they really were, and nobody was making any noise during our performance, really quiet there especially during the ballads. Then some up-tempo songs start and they start talking, but that's okay.


Q: What are your plans for future?
J: Next year I'm going on two tours in Norway. In March with my own quintet, Jacob Young Group, and my international debut album will be released on ECM label. It's going to have 9 instrumental compositions of mine produced by Manfred Eicher, recorded in Oslo. It doesn't have a title yet. So we are going on a two-week tour in Scandinavia, and after that I'm going to work with Norwegian rap/hip-hop artists to play some gigs. I've produced their album.

K: I'm going to go to a festival in India in January, and another festival in Israel in February, and will do concerts in Norway. A lot of traveling.

J : This year the two of us traveled all around the whole world, except Australia.

K: I've been to Australia. It's a nice country!


Q:I hope you'll enjoy the rest of your stay here in this country, and the best of luck to the upcoming events. Thank you for taking time for us today!
K&J : Thank you very much!



Copyright (C) 2003 Global Artist Network. All rights reserved.