<Home> <Info. form Artists>



Show Review

Hakon Storm Mathisen with Takehito Kobayashi Group
"Norwegian Jazz Nights"
Nov 17, 2003 at Welcome Back, Otsuka, Tokyo


Norway's top guitarist/composer/arranger and Japan's jazz experts in collaboration to bring the worlds together in rhythm.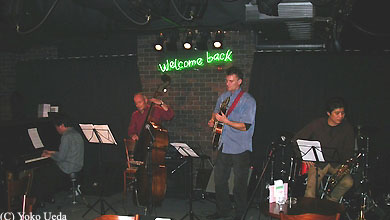 Interview With Hakon Storm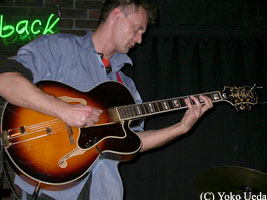 Hakon Storm-Mathisen is one of Norway's top contemporary guitar players. He has given performances all over Europe, in USA, and in Africa with his own groups and as a side man. He is also a reputed composer of big band music, and has performed his music with some of the best bands and soloists in Norway. Hakon Storm is a teacher at the Norwegian State Academy of Music in Oslo, and has given lectures and master classes at conservatories in Holland, Belgium, and Serbia.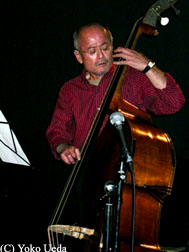 During this tour in Japan he performed at 8 venues in Tokyo, Osaka and Toyama with different Japanese musicians for each of the performances, and this is the last of the series. Tonight's performance was with Takehito Kobayashi Group. Takehito Kobayashi is a bass player with long standing career behind him in Japan, USA and Europe. He performs regularly at Welcome Back Ohtsuka where he is the leader of the band for monthly "Jazz Jam Session". Also, 2 Album releases are planned for 2004 featuring his own compositions.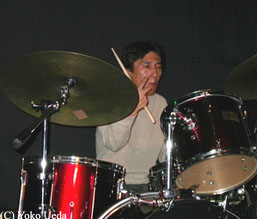 Slow 4 beat opened the set. It's "Lighthouse Blues" written by Hakon Storm. As the solid rhythm of Takehito Kobayashi's bass led on, Hakon Storm played bluesy melodies on his Epiphone Emperor Regent. Ryuichi Takase took Trumpet solo augmented by the bass that created relaxed groove while Kazuhide Motooka on the piano and Naokatsu Suzuki on the drums nailed the foundation of the rhythmic structure of the tune. Kazuhide Motooka's piano solo started rather simplistically but gradually widened the scope of the sound into a pleasantly rich musical monologue. The bass solo which followed was remarkable with rich melodic contents spanning across the fretboard. The title of the song comes from a jazz restaurant in Oslo called "Fyret" which means lighthouse. The tune is usually played as a duet with another guitarist, Jacob Young, who is also touring in Japan for the "Norwegian Jazz Nights".

The next tune is a Joe Henderson number , "Recordame". This bright tune was led off by the trumpet to which Hakon Storm added nice accompaniment with rich harmonies. The sparkling trumpet solo was followed by Hakon Storm's guitar solo which came in running up the frets from low strings in a flash, and showcasing various techniques including fast sweep style arpegiated chords. The light fingered piano solo that followed became heated as Kazuhide Motooka let out his passion. The ending sequence was played by the guitar and the trumpet in unison to give a cool finishing touch.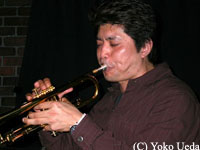 The third tune was "Little B's Poem" by Bobby Hatcherson. Ryuichi Takase switched to Flugelhorn and softly played the ballad. The piano accompaniment was at times reminding of Paul Bley for the abstract atmosphere. Hakon Storm 's solo was well controlled as if to hold passion within. Toward the end as the piano solo took on the heat Takehito Kobayashi joined with creative melodies and took over the solo, which was one of the spectacular moments of the evening.

"Storm Bird", a swinging up-beat composition by Hakon Storm was played next. Fast passages on the guitar continued in the style of Wes Montgomery which was a proof of his prowess on the instrument. Piano solo showed a well thought-out coordination of melody and rhythm. Naokatsu Suzuki's drumming was noteworthy with his right hand technique on the ride cymbal that pushed the whole performance to a great height. An extended exchange between the drums and the guitar was an excellent example of the fun of jazz performance.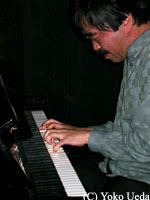 The last song of the stage was "Song for Japanese American Princess" by Takehito Kobayashi. Japanese melody was played on the piano on 2/4 then the bass came in on 3/8 with bluesy riff which presented a unique contrast between Japan and America. The song opened quietly but promising exciting development. Intricate rhythmic structure and swinging groove are all in one on this song. Hakon Storm's guitar added repeating short phrase which was well blended in the ensemble and brings the performance to a height of excitement. Naokatsu Suzuki pushed forward with his drums on this tune. Ryuichi Takase's trumpet had a funky taste in the solo.

Kazuhide Motooka came out percussively on the piano, to which Hakon Storm added a slightly avant-garde atmosphere with the volume technique to produce sound like the bowed bass. The performance developed into a freeform jam and then came back around the steady bass with the main riff, which was nothing short of spectacular. The trumpet and the guitar played the theme in unison and the song refrained the Japanese melody toward the ending. A very well crafted song it was to say the least.


This tour was coordinated by Yosuke Kurosaka of World Project Japan. He also operates a website called "KIKI JAZZ" (http://www.jjazz.net/kiki/) which presents jazz standards played by various artists in order to compare and enjoy.

Musicians:
Hakon Storm: Guitar
Takehito Kobayashi :Bass
Kazuhide Motooka: Piano
Ryuichi Takase: Trumpet, Flugelhorn
Naokatsu Suzuki: Drums


Set List
1. Lighthouse Blues
2. Recordame
3. Little B's Poem
4. Storm Bird
5. Song for Japanese American Princess


Report by Tatsuro Ueda
Interview by Tatsuro Ueda
Photography by Yoko Ueda
Design by Asako Matsuzaka
Special Thanks to COSMO PR, Welcome Back, Otsuka(http://www.welcomeback.jp/)

---
Interview With Hakon Storm


Q:There are several things that I want to ask you today. First of all, the customary question. How do you like Japan?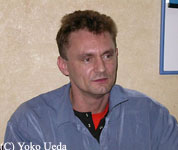 Hakon: I love Japan! This is the first time I am in Japan, and I like everything about Japan. I was a little sceptical when I arrived here about having rice and fish for breakfast, but I really enjoy the food. Of course I'd only known little about Japan before the tour. I've been playing every day, travelling, and getting the right picture of Japan.

Q: Did you get a chance to take a look around and try fish and rice for breakfast?
Hakon: Yes, I took one day off and visited Kyoto. I saw temples and shrines, as well as palaces. Also, it was yesterday, I went to see the Taiko drummer, the Kodo. That was one of the things I wanted to do in Japan, even I was going to Sado island to see them but by coincidence they were playing in Tokyo so it was a lucky situation.


Q: You've played with many Japanese musicians. Is there differences from playing with the local musicians in Norway?
Hakon: It's different in many ways. Also from night to night I played with different musicians. Tonight is the last of eight performances in Japan on this tour, every night with a different band.
The ones I played with tonight are very different from those from yesterday. When I play in Norway I play with my old band, and I have a very strong opinion about what it's going to be like when I start playing there, but here I don't have that so much so maybe I am more open minded here. You can't do the same thing every night here, you have to listen to the other musicians and find something that works. So that's very interesting.

Q: What about today's band, how did you like playing with them?
Hakon: I enjoyed very much. I think the second set was better, as we had better feeling of each other than the first set and got loosened up more. I wish we had more time to play together. The drummer has a special right hand technique. I like Kobayashi's bass with gut strings, on the upper two strings. The piano player is really good. Also I am very much fond of the trumpet player. He's really good.

Q: You've played with many Norwegian musicians including Jacob Young.
Hakon: Yes, Jacob and I have a duo and do regular gigs at a small cafe, and it's good to play with him.

Q: Do you ever get to play at Bodil Niska's Bare Jazz?

Hakon: Yeah, I've played there twice. But that's sometime ago. The place is a small one with three floors including the basement. They have occasional concerts about once a month.They usually have concerts for new CD release, and it gets totally packed with 30-40 people.

Q: I hear that you've played with Beate Lech of Beady Belle.
Hakon: Yes, she played in my band. I have a quintet and songs for vocals, so she sings. She's one of the greatest singers, extremely skilled in singing, like not many can. If you give her something in odd meters, as in 7, 9 or 5, and keys that modulate around different tonalities, and she can sing right off the music, while other musicians have trouble figuring it out. She's an extremely good and very educated musician, with a beautiful voice, and great phrasing, too.

Q: How does a guitarist like yourself write music for big band? How do you compose?
Hakon: In very many different ways. Those I played tonight are more in standard style. I also write more contemporary style big band music, which is more tonal and still contemporary, like post-Count Basie. Then I write even more contemporary music from technical point of view which provides me experimental ground. I'm always trying to learn new ways to do things. Of course writing big band music is something I like. I did extensive study in big band music in conservatoy, and later by myself on books and scores, listening to different composers I admire. It's not something that comes easy.

Q: When you compose, do you compose on the guitar, or piano, or right on the sheet music?
Hakon: That depends on what kind of music I write, but for big band music I do pen and paper, mostly. I would have concepts collected over years from many sources of influence. Things don't come up out of nowhere. It's mostly done as a handicraft with a little bit of inspiration.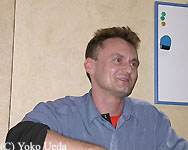 Q: Who are your favorite composers and musicians?
Hakon: Recently I've been listening to newer western composers like Olivier Messiaen, Bela Bartok, Igor Stravinsky, and other contemporary composers. In Jazz, I admire Maria Schneider. I think she is very good. I also like Gil Evans.

Q: What about guitarists?
Hakon: Of jazz guitarists I've always been a big fan of John McLaughlin. He's one of my favorite players. His creative energy, control and balance are perfect. Of course I like Wes Montgomery.



Q: Back to question about Norway, who do you play with besides Jacob Young?
Hakon: I have my own trio with Finn Guttormsen on bass and Jarle Vespestad on drums. They have been to Japan with a band called Farmer's Market.

Q: You played a song called "Storm Bird". Where does the title come from?
Hakon: Well, Charlie Parker wrote "Yardbird Suite", and Lennie Tristano, a great pianist and composer whom I admire a lot, wrote "Lenny Bird", so I wrote "Storm Bird" following their steps.

Q: I imagine that in order to play so wonderfully you must practice alot, is that right?
Hakon: I had a period when I practiced many hours everyday. Now I practice more intensively in periods, up to important performances or recording sessions, or when I study a particular new subject to me. Sometimes I only compose for a long time and don't play at all. When I teach I play the guitar but that doesn't let me learn new techniques as I focus more on understanding students than myself.

Q: About your guitar, is that an Epiphone?
Hakon: Yes, this is an Epiphone and it's my travelling guitar. I have a Gibson ES175 from 1953 back home but I don't travel with it. I'm too scared of the way the airline company handles the luggage, and it costs a lot to buy my guitar a seat. This Epiphone is a modern version from 1994, and it's a great sounding guitar. I think it's worth 10 times more than the price. But the core of the tone of old Gibson is something special and that only comes from Gibson.

Q: Thank you very much for taking time. Have a nice flight back home!

Hakon: Thank you!


Copyright (C) 2003 Global Artist Network. All rights reserved.