<Home>



LIVE REPORT


Pete Teo Solo Live
21 September 2003 at NORO


The modern minstrel brings a little bit of Malaysia to Tokyo.
Pete Teo came with everyday life in Malaysia stashed in his red bag. Songs began to play as he opened it to gently share eternal emotions.

Go to Japanese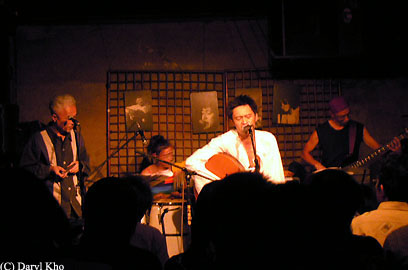 Pete Teo Official Site: http://www.peteteo.com/

See more details: CD "Rustic Living For Urbanites" -Pete Teo

Message from Pete Teo

Pete Teo is quite an unique musician. For one thing, he is from Malaysia and appeals to both folk and rock fans, in fact he has already gained popularity here in Japan among small but enthusiastic fans. For another, he his musical career goes back long and varied. He started professionally writing music in 1985 at his late teen age, for English TV soundtracks to begin with, then for a fusion band "Sibert" in which he also performed as the guitarist, then on to a unit called "Mid Century" which won a recording deal with BMG Hong Kong which became a successful cult act. Also while writing music for Channel 4 in London, he taught philosophy in a school.
After a hiatus during the latter half of the 90's he returned to the music scene in 2000 as a solo performer, in the current style, and recorded his first solo album "Rustic Living for Urbanites" which was released in June 2003. This album was produced by Ronan Chris Murphy, a producer/mastering engineer who has worked with rock pioneers such as King Crimson, Steve Morse (ex. Dixie Dreggs, Deep Purple) and California Guitar Trio, among many others. For the recording of this album, Pete Teo was joined by Malaysia's foremost musicians such as Lewis Pragasam, whose drumming prowess has made him the most wanted drummer in the south-east Asian music scene, as well as Takeharu Hayakawa, the bassist of Bondage Fruit offspring Coil fame.
Pete Teo mentions as his favorite musicians Leonard Cohen, Van Morrison, Nick Drake, and he is an avid fan of experimental jazz and rock.

Pete Teo's Japan tour took place coinciding Asia Acoustic Music Festival 2003 in Hokkaido. Besides the festival his performance was heard in 5 locations in Tokyo and Osaka areas.

Among those was this show at Noro, a small live show venue with intimate atmosphere in Kichijoji, a western city in Tokyo known for the multitude of small live venues. The house was full with some 40 young and old, men and women.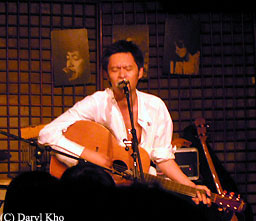 The first set showcased Pete's songwriting as a solo performer. He took the guitar stool in the center of the stage and introduced himself, and quietly started singing "Blue". The song was most reminding of best of works by Nick Drake.
The next song was "Alive 'n Free", an introspective narrative played in 3/4. One line from the song might exemplify the finesse of the lyrical content of the song:
"Excuse me for asking, but how did you get in?" / "There's a hole in your heart, that's how I got in" / Some days, I don't remember what it's like to be alive 'n free.
"Last Good Man" is a tribute to Van Morrison, from whom Pete admits to have taken great influence. Fast pitched strumming of the guitar sounded not unlike Bruce Cockburn. Sense of urgency and speed emanated from the performance and along with the sensitive voice of Pete the song came through to deep in the hearts of the audience.
The next tune is a cover of Neil Finn's "Better Be Home Soon". The song definitely sounds like a Neil Finn song but Pete has well assimilated it and made it a nice fit in the middle if his show.

"Street Where You Live" is a song dedicated to his musician friend, an Australian guitarist/singer/songwriter Baterz, with whom he was going to make a collaboration album, but unfortunately passed away before the idea materialized. The song was sang in a soft-spoken way again in the vein of Nick Drake. The guitar accompaniment was quite impressive on this one in particular.
The first song that opens the CD was the last for this set. "Arms of Marianne" is an upbeat love song with an easy melody. The song goes to a slow part and then picks up again in a clever manner which shows Pete's proficiency in songwriting skills. The composition has a good pop feeling not far away from what Bruce Hornsby would write.
After a short break Pete Teo comes back on stage with 3 other musicians: Takeharu Hayakawa on electric bass, Mari Sekine on percussion and Nobuo Yagi on harmonica.
The first song was "Rhapsody in Blue", a song with sensual theme. The performance turned out very nicely with extended instrumental section. In fact the band had only met 3 hours before the show and barely had time to rehearse, nonetheless the four musicians played in great harmony and didn't miss a beat. The song had heavier texture than heard on the CD "Rustic Living for Urbanites".
"Budapest" had a laid-back atmosphere led off by Pete strumming the guitar. The song gradually built up and featured bluesy harmonica solo. Takeharu Hayakawa gave depth to the song on the bass adding broad harmony. The first part of the song is presented in a pastoral way and the latter half in a bluesy way, making a good contrast in a song.
Medium tempo rhythm of "Hush Marianne" came up next. The song started in minor chord on the strumming of the guitar and then went through a change in dynamics to a softer one while keeping the same rhythm, which created an effect of slight slowing down of the tempo. Nobuo Yagi gave another melodic sequence to the song on the harmonica while Mari Sekine on the percussion and Takeharu Hayakawa on the bass expanded the contour of the music into a more aggressive one than heard on the CD. This sort of spontaneity is what makes live performance unique. Pete Teo appeared to be enjoying every moment of it by the look on is face.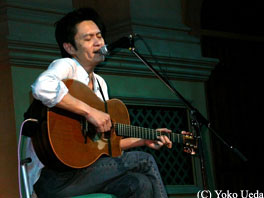 Another Marianne song, "Marianne Called" was the next on the set list. This song seemed to well represent the songwriting style of Pete Teo. Introspective, tender and intelligent. The overall texture of the song was minor chord oriented but shifted between minor and major with effective use of 7th chords. The melody part seemed to compensate the heaviness of the song in a way that the song itself is about everyday agony of work and personal crisis but the melody turns brighter at times as if to see the sunlight coming through the clouds. The band played in a rather subdued way to focus on Pete's vocal and guitar, until toward the end the harmonica took short but tasty solo and free form solo by Takeharu Hayakawa on the electric upright bass.
"Jesselton Tonight" was released as a single in Malaysia. The band sounded very tight at this point. Nice combination between the instruments were heard. Pete invited the audience to participate by hand clapping during the middle section of the song, which brought the whole house together as one. Pete's vocal was more highlighted than before and the band acted as an extension of his guitar, which was a proof for the band to have become tighter together.
The last song for the set was a new song that Pete wrote 2 weeks before the show. "Tom" is a light touched folk tune with focus on the guitar. The bright texture of the song was suitable to close the show. The band added just the right amount of support to the guitar in creating depth of harmony. The audience started clapping their hands as the song approached the climax. Nobuo Yagi gave an enthusiastic harmonica solo toward the end of the song which came as quite natural in the context of the song. After 40 minutes of performing on the stage the band sounded as if they had been playing together for months.
By the big applause of the crowd, Pete Teo came back on stage for encore by himself. Pete presented his all time favorite song, a Leonard Cohen song "Famous Blue Raincoat". It was well sang and as if to see where Pete's current songwriting was coming from. A quiet song it was, and performed very touchingly.
Pete Teo is a new name in Japan but has long history of writing and performing music behind him. Listening to his live show it was obvious that he had heard and played great many kinds of music to reach his current style. After all, what is heard in his music is a culmination of his life, in life size.


Members:
Takeharu Hayakawa (Bass) http://www2u.biglobe.ne.jp/~takeharu/
Mari Sekine (Percussion) http://www.dareyanen.com/mari/
Nobuo Yagi (Harmonica) http://sound.jp/yagi-nobuo/
-Set List-

<1st Set>
Blue
Alive 'n Free
Last Good Man
Better Be Home Soon
Street Where You Live
Arms of Marianne
<2nd Set>
Rhapsody in Blue
Budapest
Hush Marianne
Marianne Called
Jesselton Tonight
Tom
Enc) Famous Blue Raincoat


Report by Tatsuro Ueda
Photography by Daryl Kho, Yoko Ueda, Shiori Tdkeuchi
Edit & Design by Asako Matsuzaka
Many thanks to Leonardo Pavkovic(MoonJune Music), Shiori Takeuchi, NORO



---
Message from PETE TEO


I didn't really know what to expect before I came to Japan this time, but visiting and playing here is wonderful. My first stop in Hokkaido was really hectic because the tour schedule was very demanding there. But people in Hokkaido were really friendly and the countryside was really beautiful. We played from town halls to small farms and I enjoyed every minute of it. I even met some local folks who used to work in Sabah, the Malaysian state I was born in. And the food, of course, was unbelievably good. I'd love to go back to Hokkaido in the winter.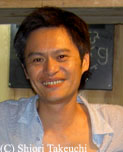 Tokyo and Osaka is totally different from Hokkaido and very exciting. Apart from performing, I had a few free days to explore a little bit of the cities and loved it. The masses of people, the traffic and the fact that these must be the cleanest cities anywhere on earth. I am not really a fan of tourist spots and spent a lot of time just wondering around residential neighborhoods checking out how people live here. I loved the salaryman bar I became a regular of in Neishi Ogikubo, and I absolutely loved Kichijoji. People I met were really shy to start with, but would get very friendly later on. As a result of such meetings, I have received several invitations to stay in homes the next time I tour Japan. Staying with local families would be great. Anyway, I would love to come back just to explore these cities better. Another thing - the fact that technology is so unquestioningly embraced in Japan is intoxicating, especially when so much of the life here remains very traditional. I think that modern / traditional mix is very refreshing. I also think auto-warming toilet seats are amazingly cool. I think I'll get one installed in my apartment in Kuala Lumpur. May be not.
Playing here in Japan is great too. The audience tend to be a touch quiet, but they listen, and are very knowledgeable about music. And when an audience likes the performance, they can be so passionate afterwards that it can be overwhelming at times. I don't think I've been asked to sign as many autographs anywhere in the world as I have just playing three weeks in Japan. I would love to develop a bigger audience in Japan so that I can keep coming back. I love the way you listen and respond. I think it is unique.
The only problem I can think of about playing here is that everyone goes home very early because the last train is at midnight. In Malaysia, gigs often end past midnight and the post-gig drinks and chats go on till dawn. So I had to get used to a different post-gig scene very quickly. But earlier nights is probably healthier in the long run for me. Still, I missed hanging around chatting and drinking with new friends after the gig is over. To me, that is very much part of the fun of playing.
There is talk of me coming back to tour in Japan in the Spring of 2004. If it happens, it'll be brilliant. I'd love to play in Japan regularly. I love cities and the people. And the musicians are very good indeed. Perhaps next year I will do an album with some musicians here. I think it will be a blast. And I would also love to have a chance to try Kusaya. Hayakawa Takeharu and Yagi Nobuo promised to take me next time I am in Japan. They think I'd faint at the smell. But I think I'd love it.

Can't wait.

30 September, 2003
Pete Teo


---
Pete Teo / Rustic Living For Urbanites




June 2003
$16.85
Redbag MUSIC


CD reviews and music sound clips: http://www.cdbaby.com/cd/peteteo


1. Arms Of Marianne
2. Budapest
3. Jesselton Tonight
4. Alive 'N Free
5. Rhapsody In Blue
6. Marianne Called
7. Blue
8. Where've The Years Gone?
9. The Red House
10. Hush Marianne

---
Copyright (C) 2003 Global Artist Network. All rights reserved.